Fellow alumni, future alumni, prospective alumni, friends visitors: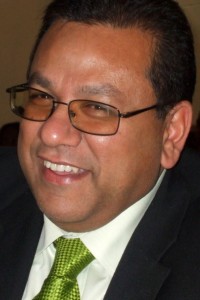 On behalf of the over 45 Years of Graduates of Overlea Secondary School / Marc Garneau Collegiate Institute, it is my pleasure to welcome you to the Overlea Garneau Alumni Association (OGAA).
I am honored to have the opportunity to serve as President of the Alumni Association. I am even more humbled to serve in the capacity with a diverse and well-respected team of Executive & Board Officers, who are committed to ensuring the continued success of the Alumni Association.
As we see, the world gets more complex with every passing day. We get involved with personal responsibilities, work, and interest and suddenly we have lost touch with those outside that circle of friends and associates. The Alumni Association can help you "stay connected" with events and programs, planned with you in mind. Please do check for 'Upcoming Events' on our webpage @ http://www.overleagarneaualumni.org/.
I invite each and every one of you to get involved in your own way as the possibilities are endless, and please don't hesitate in sharing ideas. There are several Alumni Committees that are always looking for new members including our Outreach Committee, to continue to grow visibility, generate interest and raise awareness.
At the same time, I would challenge you to think of ways that you can give back to the Alumni to whatever degree you are comfortable. And I do not mean just monetarily, though that is, of course, always welcome! See the Donate Now button on the Webpage.
There are many other ways to give back, from career and academic mentoring to volunteering time at events. Currently, the Alumni Association is actively looking for volunteers to assist with the Mentoring Program that connects alumni with students. Additionally, we always need Reunion and Class Reps assisting in the planning of functions. So, if you enjoy connecting and reconnecting with old friends and classmates let us know. Whatever vehicle you choose to use to get involved, we are here to make more things possible for our alumni. If interested, please email us @ info@overleagarneaualumni.org.
I encourage you to get involved, to reach out and to connect with us.
Remember to update your contact information so we are able to send you information about upcoming events. I encourage you to explore all that we have to offer to stay connected and help in making the Alumni and School stronger.
As you will find, giving back has another benefit: it feels good!
So thank you for visiting with us today, and please come back often.
Go Cougars!
With warmest regard,
Vinod Mahabir, President
Overlea Garneau Alumni Association